I HATE all the "bribing" happening in schools. You read and you get a party. You do your homework and you get a party. You complete all your work and you get a party.
How about you GET to read, you WANT to learn by practicing at home, you WANT to complete all your work because you are interested and see value in learning.
Let's not underestimate kids. Let's get to know them, help them see the purpose of schooling, the love of learning, the enjoyment in books, and the creativity in math. I know it is hard, but if we always just use tricks and bribes, will we ever get the intrinsic desire to learn that we all need? I know there are some kids that need that extrinsic motivation at first, but I just think it is becoming too much the norm. It is becoming a crutch instead of a scaffold and I think we need to stop. Let's create thinkers who love learning!
I am determined to break this cycle and help my students develop strong academic mindsets that will help them to have long term success in school and in life. One of the things that we did at the start of the year was to learn about the Global Campaign for Education. We graphed how long it took us to get to school, and then watched the documentary On the Way to School. Later, we compared our time and distances to the 4 stories.
This was a true eye opening experience for my students. We discussed why the children would travel such far distances just to go to school. We also completed all the lessons from Lesson for All Curriculum. It was powerful for my students to learn about the barriers to education and then to think about what people are doing to the lessen those barriers.
I now have students working to figure out how they can support and reduce the barriers for students around the world. Through this work my students were the ones that brought up the topic of attitude and students were saying it is not just about going to school, but it is what you do while you are there. Yes! They said, "Distance is a barrier to get to school, but attitude is a barrier to achieving in school." Awesome!
They said it and I'm using it. Do you have the right attitude? Are you mentally here and engaged? If not, what can you do to change your attitude?
In addition, we started the year with Jo Boaler's Week of Inspirational Math. Brilliant! We learned about growth mindset, the notion of brain crossing, growing dendrites and how mistakes can cause synapses to fire. (This is also linked to our study of cells and neurons) Students saw that through effort, they can learn and challenges are important. And….they are just loving math!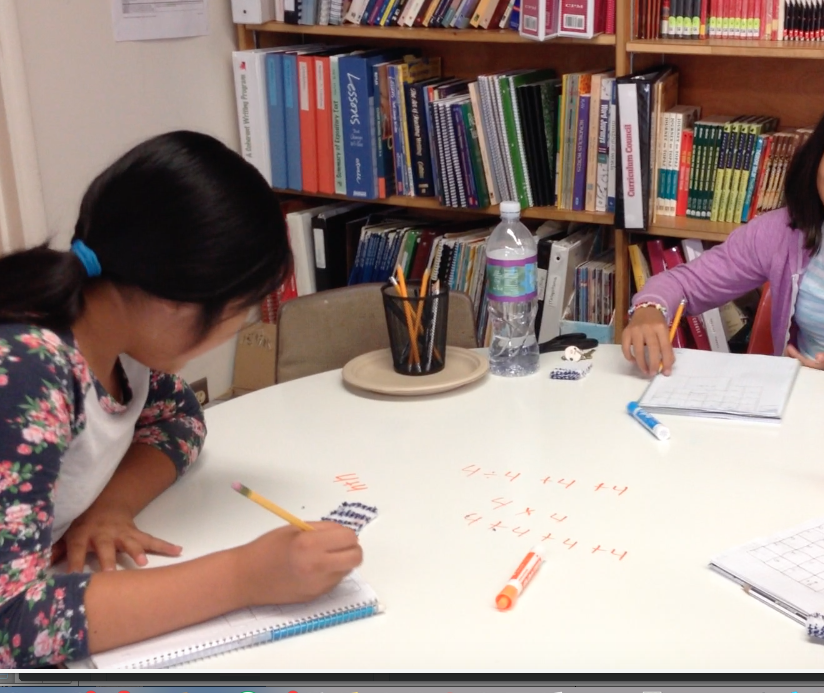 The Four 4s!
They are seeing the fun and creative side to the subject, engaging in argument, and becoming pattern seekers. Yesterday, while I was reading a book in which the author states that her least favorite subject was math, the class looked at me appalled and in shock. Yes! They are all starting to love math.
Lastly, after reading Zaretta Hammond's book, Cultural Responsive Teaching and the Brain,
I was determined to do a better job of being more culturally proficient and helping all my students develop strong academic Mindsets and being the "Warm Demander".
This is from her website and I am on the road to #1, #3 and #5.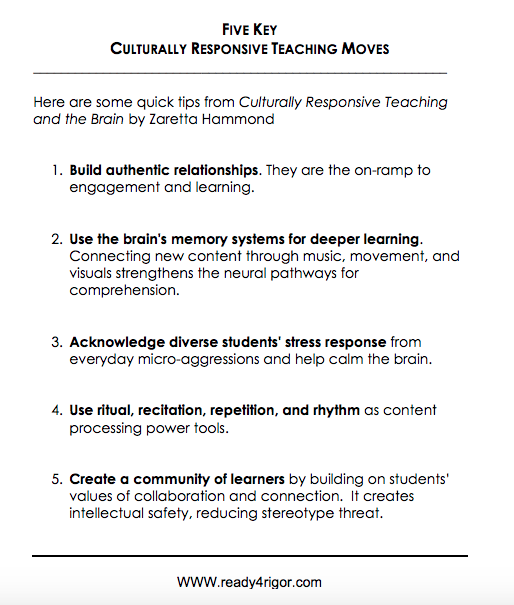 http://ready4rigor.com/wp-content/uploads/2015/02/Five-CRT-Teaching-Moves.p
I wanted to start the year by building strong relationships with my students. So, I decided to share part of my culture with them and I set up a Fika or a walk (some people talk more when they walk) with each student.
We talked about how they felt about different subjects, what their afternoon schedule is like, and their interests. We then created a special handshake. Yes, I now have 26 handshakes that I have to remember as they all enter the room each morning. I admit it, I don't always remember them. But, I will get there.
We we are off to a good start.. I see a few kids changing already. It will be hard, but we will do it or die trying. 🙂 Next comes goal setting this week based off of some of the assessments they have taken and creating our learning pacts
I want them to leave my class as learners: inquisitive about the world and motivated to find out the answers to their questions.